This is for all you locals (or those of you that may want to escape to our sunshine this winter).
When I moved here ten years ago it was going to be temporary. A corporate work transfer to be enjoyed for few years before moving to Colorado or back to Washington. Instead I met my husband/life partner/best friend and settled in. Yes, there were times when I desperately missed (and still do) the water, greenery and general charm of Seattle, but Scottsdale has certainly grown on me and we're here to stay.
A college friend of mine, who had moved here a couple years before me, once said, Arizona has it's own sense of beauty. That it does.

This photo was taken by my husband's best friend as they hiked just 10 minutes from our house in the McDowell Sonoran Preserve.
Before moving here, I had never understood the "purple mountains majesty" line in that famous patriotic song. Never noticed all the nuances of the desert in bloom. Never knew there were so many wild critters who add a combined element of fear and fascination. Never imagined our little slice of suburbia could house all at once some of the best hiking, dining and shopping on the west coast. I've learned that I'm a country girl at heart and appreciate the quiet slice of life we've created here.
Favorite Things in Scottsdale
McDowell Sonoran Preserve
- I love hiking here most Sunday mornings in the winter and spring. A variety of hikes and trailheads, superb gateway education center, breathtaking views and friendly volunteers offering evening flashlight tours and classes for hiking with dogs.
Blanco Tacos
- (Or any other restaurant by Sam Fox for that matter) Perfect for an afternoon date or casual night with friends. Be sure and try the guacamole and berry mojitos.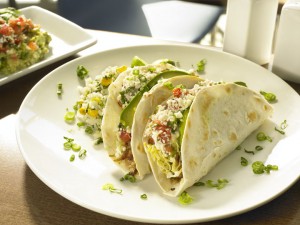 Scottsdale Quarter
- Lululemon, Pottery Barn, True Food Kitchen, Grimaldi's, Press Coffee, iPic Theatre and a splashpad with views of the McDowell Mountains and sleek lounge chairs. What's not to love?
Desert Botanical Gardens Noche de las Luminarias
- While technically not in Scottsdale, DBG is just a smidge outside the border. We never miss their annual Noche de las Luminarias when the entire garden comes alive with flickering luminarias, musicians and carolers are tucked throughout, and you'll find wine and hot cocoa stands as you stroll the winding paths. Magical.
Pinnacle Peak
- Another favorite weekend hike. 360 degree views of the valley and spectacular boulders.
McCormick-Stillman Railroad Park
- Everyone loves visiting the "train park" for the train rides, carousel, model museum and playgrounds. Can't miss this if you have kids. Especially fun around the holidays when Santa and his pals ride in to town.
Sweet Republic
- As seen on The Food Network's Best Thing I Ate and now at Whole Foods. Sweet Republic dishes up unique, artisan ice cream that will expand your palette and imagination. Salted Butter Caramel, Honey Blue Cheese, and Banana Foster to name a few. Their vintage orange ice cream truck is pretty sweet too.
El Chorro
- The lodge was originally built as a school for girls in 1934, converted into a popular hangout for celebrities like Frank Lloyd Wright and Clark Gable in the 1950s, and operated as an iconic restaurant since the 1970s. In the last few years El Chorro has undergone major updating and LEED certified renovating, while maintaining it's classic charm and memorable menu items, such as the Eggs Benedict and world famous Sticky Buns. If the expansive patio and sleek yet rustic decor don't get you, the up close and personal views of Camelback Moutain certainly will.
Oregano's
- One of my first hangouts when moving here, Oregano's is still a favorite today. It's not just the food, it's the people. When you recognize some of the same employees from five or ten years ago it says something about a business. I can say with conviction that one of my last meal requests would be their Pablo Picasso salad, Lawrence pizza and Pizookie dessert. Simply the bomb.
Harkins Theatres
- Family run business, charitable owners, Summer Movie Fun Pass that allows kids to see 10 movies in 10 weeks for less than $1 a movie. Love it at Harkins.
Heard Museum North
- Being smaller than the main museum means less crowds and more manageable viewing. It also means a charming garden cafe and scenic drive to and from. Worth checking out.
Scottsdale Public Library
- I've always been a huge fan of libraries. Award-winning LEED architecture, stunning design, superb storytimes and early literacy programs set Scottsdale's apart.
Waste Management Phoenix Open
- The Open is practically a holiday around here. You're guaranteed to bump in to old friends, share lots of laughs, get a sunburn and most likely a hangover (very likely if you hit the Bird's Nest). Some of the best people watching in town.
The Mission
- Romance, ambiance, mouth-watering food. Everything is worth trying at the sexy restaurant.
The Herb Box
- Taking the in-laws to brunch? Meeting girlfriends for lunch? Lucky enough to have a date night? Want some gourmet to-go for your hike? The Herb Box at DC Ranch Market Street is *the* place. So many favorite menu items I can't even begin to list them all. Live music some nights. Friendly staff. Red Velvet Cupcakes. 'Nough said.
This post is getting long...You can see Scottsdale has become my new hometown.
A few more favorites for you to consider:
Arcadia Farm, North Scottsdale Farmer's Market, The Breakfast Club, Scottsdale Culinary Festival, Kierland Commons, Sassi, Sanctuary Resort & Spa, The French Bee, The Embellished House, Kazimierz Wine Bar, Pure Sushi, Taliesin West, Old Town Trolley, Camelback Mountain, Parada del Sol